NoHo Hank goes to the Hollywood Ant-Man and The Wasp: Quantumania Premiere...in Westwood
Check me out on PBS and Publishers Week's Comics podcast!
Ants, Man.
When Terry Dotson asks you to go to a Marvel premiere for the new Antman movie, you say "yes."
It's hard to pretend I've never wanted to be in the mix. But I have been to a couple of friends' premieres. It was the same vibe, except that Paul Rudd and Michelle Phiper were a few rows from me.
Latinx Press is a reader-supported publication. To receive new posts and support my work, consider becoming a free or paid subscriber.
I wouldn't have traded places to be near them from my section: the comic pros. Again, I'd be lying if I said that I haven't thought about the day when I get to go to a red carpet shindig for a series I worked on or a creator-owned project.
So, I thank Terry for that experience. Check out my "review" at the end of this post.
---
Preorder BEYONDTOPIA: Legends #3!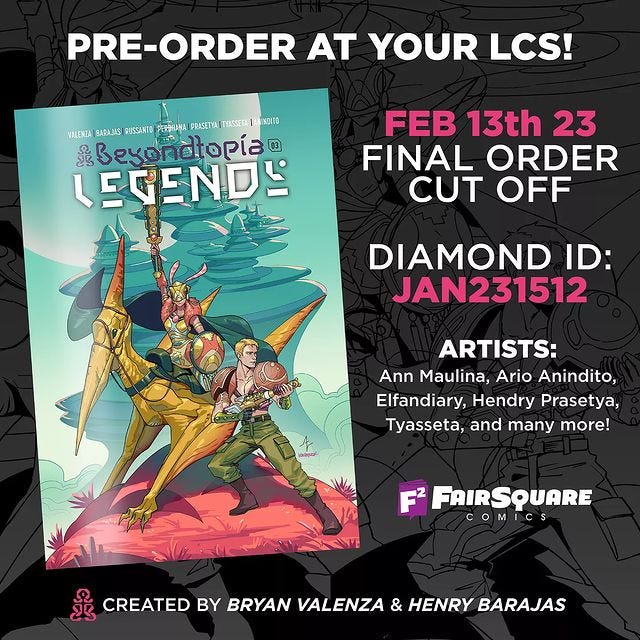 It's the last installment of our Beyondtopia anthology. Ask your local comic shop to order you a copy. If you want a signed copy of the first and second issue, click here to order it directly from yours truly.
---
I'm back on PBS' Comics Culture hosted by Professor Dollard
It's good to be back on one of my favorite comic conversation shows Comics Culture hosted by my friend Professor Terance Dollard. He has many amazing conversations on your local PBS station and YouTube channel. Please give it a like and subscribe!
---
Check me out on PW Comics World: More To Come Podcast with Calvin Reed
I have known Calvin Reed for over a decade at this point. He and his better half, Jody Culkin, have been dear friends of mine thanks to Heidi MacDonald. If you know me, you know very little about me. That's not your fault because I would rather hear more about you! But here's your chance to learn more about me and my journey in comics.
Are you reading Gil Thorp? You Should!
It's always a good time to start reading Gil Thorp. Luke Martinez was introduced in July as Gil's archnemesis at Milford High's rival Valley Tech. I've said this before, but, Luke is the opposite of what Gil stands for. Luke gossips, he's hotheaded and doesn't care about anyone but himself. You know when you've got a good heel when the readers despise him in the comments. Like sports, you need someone to root against.
I stumbled across this review of the strip on the premier comic strip site joshreads.com:
I honestly forget sometimes that Gil Thorpe got a new writer last year..granted that's because on the surface there isn't a huge diffrence between the Thorpe I see in the archives when binging Mary Worth and the Thorpe we see here. But beneath that I do give the writer credit for not only still being delightfully riffable ("We play magic we don't vape", Coach Ramierz, the local mullet car man), but also having a semblance of a plot beyond "Win a sport , woodchipper mishaps, inspirationjal disadvantage, rinse repeat". While the idea of a school defunding it's usuallys successful athetics program instead of just.. firing the coach (Though apparently ole gil has Tenure), is hilariously out of touch as moral vape peddling to fund atlhetics, Gil having to get out and fundraise, appear in car commericals and other stuff is neat, as is giving us a new assitant coach whose not another bland white guy and they spent time building up as a character. Granted all of this is basic storytelling stuff , but it's done with a clear earnest love for the character I can't help but respect. I mean we're all here talking about comic strips every day, something I apppricate you all welcoming me to, and I do it on go comics frequently so it's not like I can't relate. So thank you Gil Thorpe man for trying at a job no one else remotely would.
Let's be honest, Gil Thorp isn't on everybody's to-read daily list. I do my best to find a balance between listening to what the readership wants and what I want to be proud of what I'm doing with Rod. I'm trying not to dwell on the negative comments but acknowledge when people have nice things to say.
#Family
Real quick: my favorite part of the trailer is when Vin Diesel destroys two helicopters with nitrous oxide.
Another fun event I attended this week was the Fast & Furious 10 four-minute teaser trailer. It was great to hang out with my former boss and road warrior, Elena. We both share a deep love for the Fast & Furious movies. My family hated the cliche "ghetto car culture," but the first movie celebrated that.
It was cool to get a sneak peek, appreciate the cast, and hang out with family.
---
Spoiler-free review of Ant-Man and the Wasp: Quantumania
I go into these things with zero expectations because the possibility of there even being Ant-Man seemed like a miracle, but there are now three. It's hard not to get caught up in the excitement because most of the cast and crew are in the room cheering for one another.
I think it was one of the better-paced MCU flicks. The ensemble has all its moments. Splitting the party is annoying, but, important to make sure everyone gets their screen time.
Ant-Man starts with comedy and ends with humor. Sets the tone. Sure there's some drama and tension, but it's a comedy. Lord knows we could all use a laugh right now.
The MCU is running into what the comics have suffered since "cross-over events" became a regular thing. I wouldn't advise going in cold. While Ant-Man and the Wasp does a good job of keeping it contained from the many Disney+ shows, but you should watch Loki before getting your ticket.
Do you need to?
Kind of.
You could read the comics because those are cool, too.
Latinx Press is a reader-supported publication. To receive new posts and support my work, consider becoming a free or paid subscriber.